Environmental leadership keeps Indiana T-line rebuild on track
ECSL, a joint venture of Houston-based EC Source and Chicago-headquartered Sargent & Lundy, engineered and rebuilt a transmission line along with adding a distribution line and related work. The project reconstructed a 138kV transmission line stretching approximately 14 miles northeast from the Marquette Substation in La Porte, Ind., to the New Carlisle Substation in New Carlisle, Ind. The construction included 183 monopole steel structures and wooden mid-span poles. ECSL also excavated and poured concrete foundations and backfilled direct-imbed structures with cement and gravel.
During the project, the utility requested engineering changes to the Olive Substation approximately one mile east of New Carlisle and additions to the distribution line along the Chicago Trail, which required ECSL to mobilize crews to each area for added work.
Energy Environmental Group (EEG), a subsidiary of EC Source, provided environmental support for the ECSL construction crews from before construction began to reclamation. The EEG team also took the lead on identifying the project's environmental concerns during construction of the transmission line's various segments as well as racking out a substation, including old transformers with polychlorinated biphenyls, or PCBs. Environmental experts from EEG offered oversight, training, and guidance to ECSL crews who were installing matting, clearing trees, and installing access roads. The ECSL crews then made use of EEG's coaching to develop their approach for erecting structures while protecting the environment.
Environmental Services Provided:
BMP Installation and Maintenance
Stormwater Pollution Prevention Plan (SWPPP) Inspection
Notice of Intent (NOI) and Notice of Termination (NOT)
Spill Prevention, Control and Countermeasure (SPCC)
Environmental Training
Assisting Crews with Maintaining Compliance
Restoration
2019 – 2020, final environmental permitting closed 2022
New Carlisle, Ind., to La Porte, Ind.
The depth and frequency of communication initiated by EEG with the utility company helped the work move smoothly and without incident. The reclamation involved closing out numerous permits, which EEG coordinated with permit-holder Sargent & Lundy.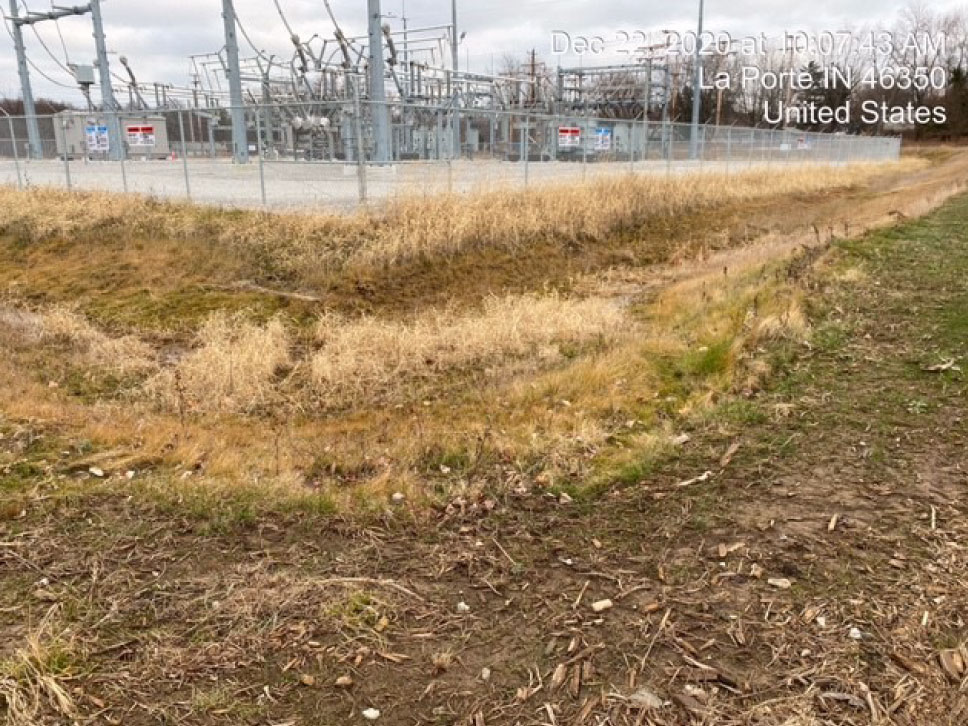 A portion of reclamation work carried out near the Marquette Substation.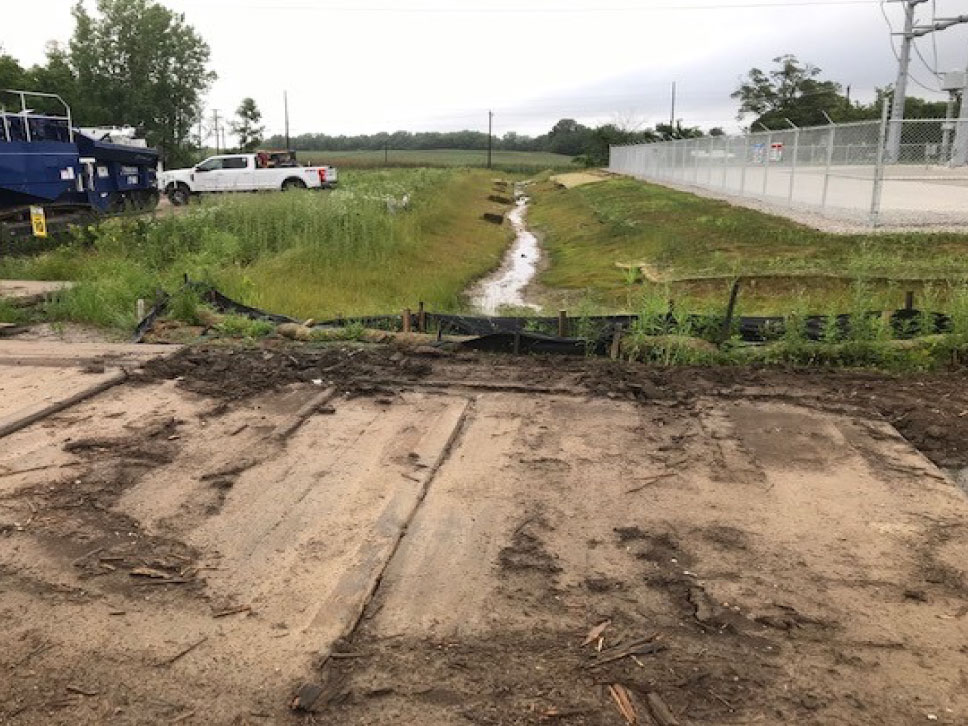 Matting and silt-control measures in place near one of the project's substations.