Rebuilding Southwest Florida's Charlotte-Peachland T-line
This project included reconstructing and upgrading a 138kV electric transmission line to a 230kV transmission line. EC Source crews reconstructed eight concrete structures in and around the Shell Creek, northeast of Punta Gorda. Altitude Energy reconstructed six structures across the Peace River, which forms Punta Gorda's riverfront. The crews performed the work as part of a larger project tying into the same transmission line. Because of EC Source's specialized experience, the utility tapped EC Source's crews to reconstruct the poles located in challenging terrain including the river, salt marsh, and tidal creeks. Energy Environmental Group, a subsidiary of EC Source, provided field oversight for construction crews from EC Source and Altitude Energy. EEG ensured environmental compliance with regulations set by the Florida Department of Environmental Protection, Florida Fish and Wildlife Conservation Commission, and the Army Corps of Engineers.
Environmental Services Provided:
BMP Installation and Maintenance
Spill Response and Documentation Oversight
Environmental Training
Assist all Contractors in Maintaining Compliance
Charlotte County, Florida
Prairie Creek Preserve, part of the Southwest Florida Water Management District, and Peace River Preserve in Charlotte County
Florida Power & Light, FPL, provides electric service to Charlotte County. FPL serves some eight million people along the eastern seaboard and the southern portion of Florida. Approximately 104,400 of those customers are in Charlotte County. While rebuilding and upgrading the transmission line, EC Source encountered nature preserves, tidal creeks, salt marshes, and freshwater marshes. To undertake construction in or near intermixed mangroves and salt marshes, EC Source crews brought in construction matting with floating, detachable bridges that workers opened at the end of each day to allow boaters to pass. Through research, consultation with local authorities and fieldwork, EEG teams located protected and threatened species in the project area including gopher tortoises, indigo snakes, and manatees. EEG ensured construction work did not harm these animals by training construction workers and putting in place protective measures.
Initially, the construction teams hoped they would be able to employ a novel system for setting the pole butts without digging and installing caissons, which crews agreed would be especially useful in mangrove and salt marshes. Crews would run a pipe down the center of the new pole to pump water beneath its base to turn the substrate below the pole into a slurry; the new pole would then sink into the ground. After completing this process with one pole and consulting with the utility, EC Source crews scrapped the approach due to the time taken to reach a proper depth. The teams, instead, adopted a modified jetting system and auger that loosened the substrate without removing any material; crews then used the waterjets to enable the pole to sink under its own weight.
Among the biggest challenges with the project included maneuvering equipment around the work area, while confining crews and equipment on the matted area. Through training and regular briefings, EEG's team ensured construction crews on the site recognized the protected and threatened species and knew how to work in a manner that eliminated any harm to the mangroves, marshes and animals like the gopher tortoise and indigo snake. Beyond protecting wildlife, EEG instructed crews on best practices for keeping these unique, challenging work sites and access roads clean and maintained throughout the rainy season.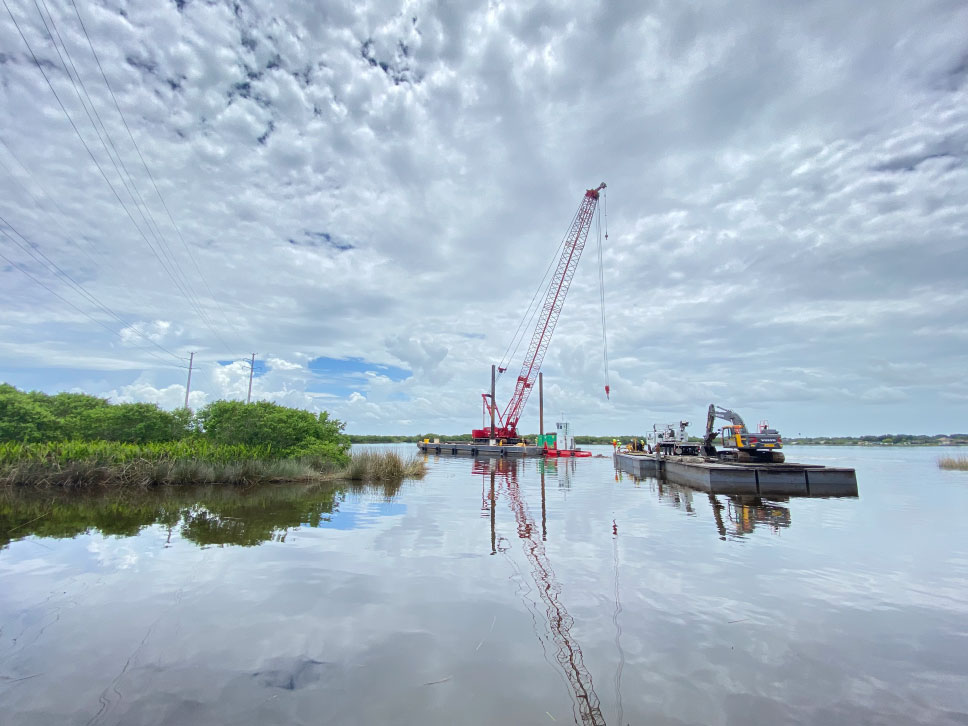 Crews transport a barge through Whidden Bay near the Peace River toward the location for a transmission structure.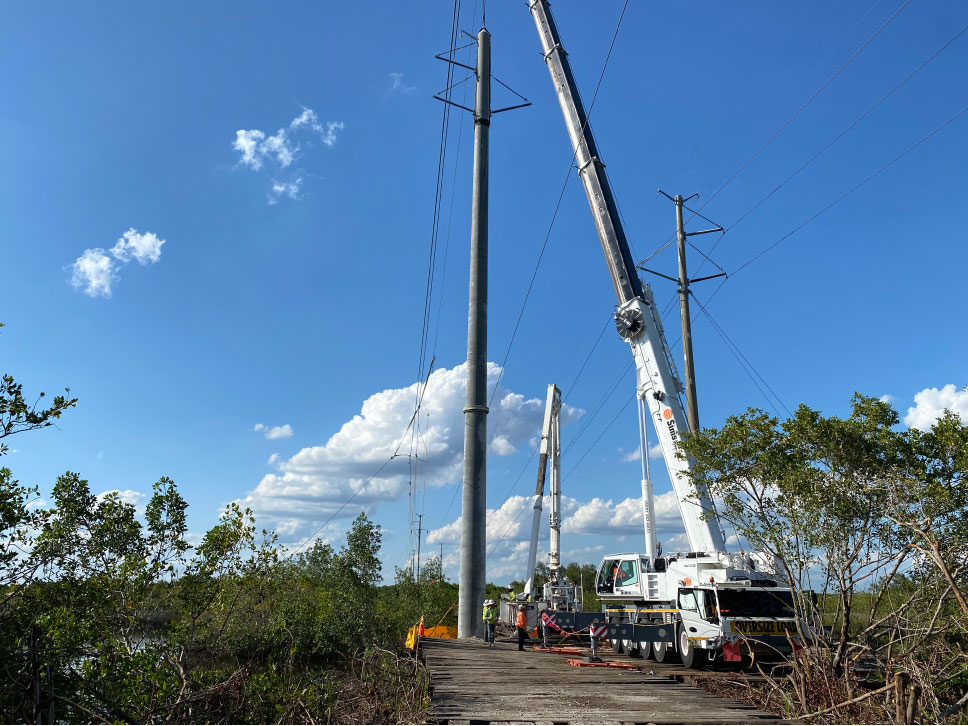 EC Source crews working on matting near protected areas use a crane to attach the top to a new T-line tower.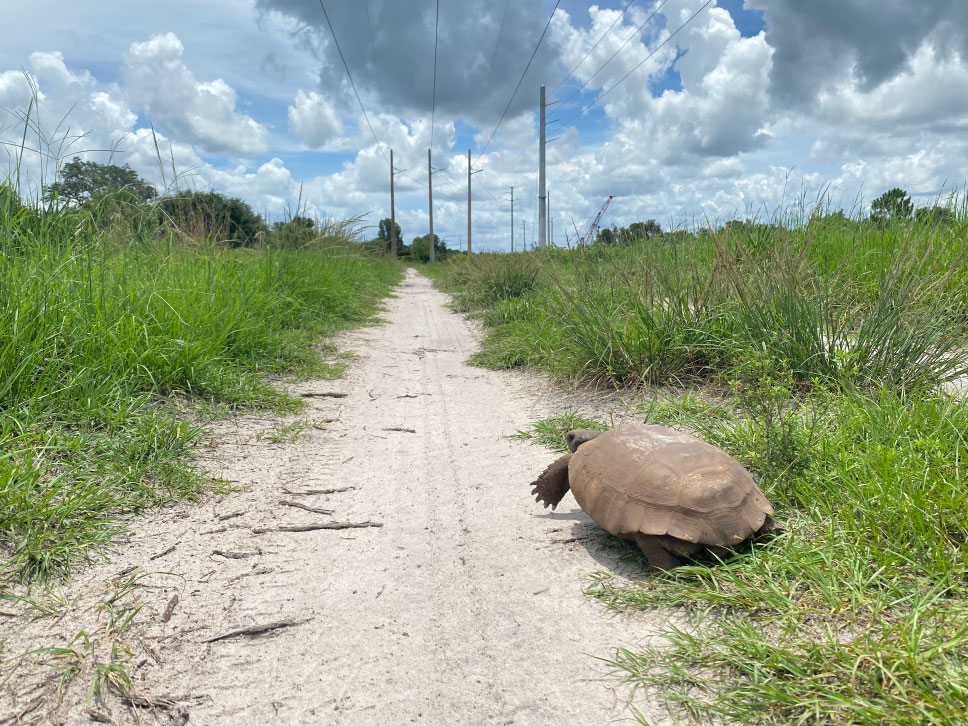 A gopher tortoise, the only land tortoise native to the Southeast, crosses a trail near one of the EC Source work sites.